With a commitment to recycling, an eye for value, and often with an artistic drive, many of our customers see the potential in what might have otherwise become discarded. Below are a handful of their projects. Share your project on our website by emailing us a picture and a short description.
Using Skagit Building Salvage materials, the owner of Seattle store Antika constructs and sells these great primitive tables.
---
"Iron Wreath" Original Art by Arno Zielke using rusty metal bolts and bits
"Tokonoma"- Original Art by Arno Zielke using boat hull copper

Salvaged fir flooring used to create a rustic gate
---
Use of rare pedestal tub, new old stock 1940's sink and 1930's art deco wall sconces

Local artist Buster Simpson used 3.5″ Naval Rope in his art installation at Brightwater Treatment plant
---
Skagit Building Salvage sourced mid-century enameled fire place and roof tiles repurposed as a patio.  Cedar decking sourced from Bellingham's RE-store and railing material from Port Townsend's Waste Not Want Not
Four braces from a craftsman home and three large planks from a warehouse in La Conner were assembled to create this sturdy table.
---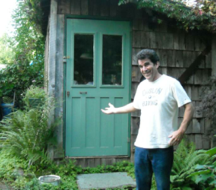 Using a dutch door, a craftsman screen door, cabinets, and 2×4 studs purchased at our store, Bellingham residents Liz Jennings and Tim Schaebethal built this deluxe chicken coop to match their home.
Mark proudly displays his new shed door salvaged from a home in Anacortes
---
From Melissa Spear: "We picked up a $25.00 mahogany door.  We cut down one end to make it look more even, sanded it, stained it and then we painted on chalk paint in the middle.  I stenciled in wording and designs, then hung it horizontal in our dining room."